Although both municipal and school buses are relatively safe forms of travel, school bus injuries often spike at the beginning of each school year. It's important for parents to understand the unique challenges of filing these cases, how fault is determined and what to expect.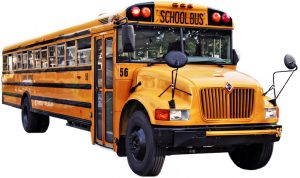 Recently, a teen driver was cited in a Lehigh Acres school bus accident when he struck a bus on the very first day of school, resulting in injuries to a second grader. According to the Associated Press, the teen allegedly ran a stop sign, slamming the bus and pushing it into a ditch. An 8-year-old was taken to the hospital with minor injuries and the bus driver was hurt as well. Five students were on board at the time of the accident, with four of those wearing a seat belt.
Although every accident is different, there are some unique factors that more frequently play into causation of bus accidents and exacerbation of injuries to occupants and pedestrians. These include:
Frequent stops;
Bus drivers who are fatigued;
Improperly-maintained buses;
Frequent stops;
Child pedestrians interacting with traffic;
Lack of child occupant restraints (seat belts) on many buses;
Higher-than-average rollover risk.
It's imperative that parents and schools work to teach students safe bus practice. Bus drivers (often employed by third-party contractors) must be properly-trained. Other drivers need to be alert and mindful of buses and the children – waiting, boarding and exiting – particularly in the hours just before and after school.
Note that there are special laws in place to protect students when getting on and off the bus. It's illegal to pass a bus traveling in the same direction (or the opposite direction on a two-lane road) if the stop sign and flashing red lights are activated.
All factors will be considered when determining liability and damages in a South Florida
school bus accident
lawsuit.
School Bus Injury Claims Tend to be More Complicated 
The good news is that in general, students aboard the bus tend to suffer less severe injuries because the force of impact in a larger vehicle is lower than for those in smaller vehicles – especially compact passenger cars.
Pedestrians, however, often fare far worse.
It's critically important if injury does occur on a school bus to hire a personal injury lawyer with experience related to bus accident claims. They are unique because they involve a government agency and, very often, third-party contractors, other drivers and sometimes even your own auto insurance. No attorney can promise a given outcome (you should be wary of any who do!) but your chances of success do increase markedly when your attorney has a track record of prevailing with these types of claims.
Some claims may not require litigation. Settling the case early for a fair amount of compensation is our primary goal. If the claim for fair compensation is denied, we can discuss filing a lawsuit – and all the risk and reward that comes with it. Your injury lawyer will be paid on a contingency fee basis, meaning he/she won't collect any attorney fees unless the claim is successful. This should provide a boost of confidence for plaintiffs because their lawyer has a personal stake in a successful outcome.
Claims Against the Government
In cases where the bus involved is owned or operated by the State of Florida or related injuries and you are asserting negligence on the part of employees, you may have a limited time in which to file your claim. It's important to act quickly. While most general negligence claims in Florida can be filed within four years of the cause of action, claims against government agencies in some cases must be filed within 180 days. Some jurisdictions have even shorter deadlines.
On top of this, you will have to overcome Florida's sovereign immunity statute, F.S. 768.28. The law does note that the state and its political subdivisions (cities and counties) waive their right to sovereign immunity, but only under limited circumstances and damages are capped at $200,000 per person and $300,000 per incident. If an individual is awarded anything beyond that, your attorney must help you find a state lawmaker who will sponsor a claims bill that goes before the state legislature for final approval.
It's important to work with a law firm that has the experience and resources to bolster your odds of a successful claim.
Contact the South Florida personal injury attorneys at Halberg & Fogg PLLC by calling toll-free at 1-877-425-2374. Serving West Palm Beach, Miami, Tampa, Orlando and Fort Myers/ Naples. There is no fee unless you win.
Additional Resources:
School Bus Safety, NHTSA