A number of recent Florida boating accidents have been reported across the state, many of those young people on spring break.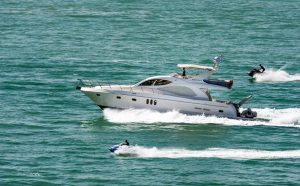 Among those reported:
The death of a 19-year-old college freshman in a single-vessel Florida boating accident while on spring break in Sarasota.
The death of a 21-year-old Florida A&M University student who was in a pontoon boat with 10 others off the coast of Panama City. The young man jumped into into the water to help someone else who was in distress, but later lost his life as well. He was a senior business administration student and a member of the Army ROTC.
The death of an 83-year-old boater from New York who was killed while fishing when another boat on autopilot struck his vessel in the Florida Keys. Those aboard the other boat were also from New York.
As our South Florida boating accident lawyers can explain, Florida has – by far – the most reported boating accidents of any state in the country. Last year, the Florida Fish & Wildlife Conservation Commission (FWC) reported more than 720 boating accidents. Among those, there were 66 deaths. California, the state with the second-highest number of boating accidents, tallied 350 with 50 deaths.
Boating accidents qualify as "reportable" if a person dies, disappears under circumstances indicating injury or death, is injured and requires medical treatment beyond first aid or there is at least a $2,000 aggregate property value loss (including total loss of a vessel).
Florida also has the highest number of registered vessels – more than 950,000 as of 2018. That's a 6 percent increase compared to the year before.
Although the boating industry is likely to take a hit with the impending coronavirus spread, so far "social distancing" rules still allow families who live together to be out on the water. It's imperative for all to use extra caution any time they operate a marine vessel.
Liability After a Florida Boating Accident
There are several different types of boating accidents,  but about 25 percent involve more than one vessel. But even single-vessel boating accident can result in a claim for liability – just as within car accidents.
However, unlike motor vehicles, boating insurance isn't required for someone to take a boat on the water. Nor does anyone need to have a license in order to operate a boat (though those born after 1988 are required to take a boating course). Some boaters are required by banks to obtain insurance if they don't own their vessel outright or if they are operating a business in which boats are rented out. Some marinas require it as well. A number of homeowner insurance policies may offer boating insurance as well.
To file a claim for damages, plaintiffs need to be able to show the boat operator failed to operate the vessel in a manner that was reasonably safe and that this failure was the cause of plaintiff's injury.
Negligent boating can include things like:
Taking the boat out on the water when conditions aren't optimal;
Turning the boat the wrong way into a wave/causing it capsize;
Failing to provide adequate safety equipment for those on board;
Traveling too fast and hitting a dock or another vessel;
Drinking while boating and causing an accident.
Note that if you signed a waiver of liability (often the case if you rent a boat or personal watercraft), the waiver may be enforceable but not all waivers are set in stone. You may have the right to pursue damages if the terms of the agreement didn't clearly spell out the dangers so you understood exactly what you were signing. Waivers of liability also do not protect anyone from acts of gross negligence.
If you have been injured or have lost a loved one in a Florida boating accident, we are available to answer your questions and help you determine the next step.
Contact the South Florida personal injury attorneys at Halberg & Fogg PLLC by calling toll-free at 1-877-425-2374. Serving West Palm Beach, Miami, Tampa, Orlando and Fort Myers/ Naples. There is no fee unless you win.
Additional Resources:
Florida Boating Accident Fatalities, FWC
More Blog Entries:
Who is to Blame for South Florida Electric Scooter Head Injuries?, Feb. 27, 2020, South Florida Boating Accident Lawyer Blog