If a school principal opened the doors to adult sexual predators and gave them the means and access to regularly communicate with students on school grounds – there would be no question of legal liability for whatever harm was inflicted on those children as a result. But what if the means and access was via a school laptop? Do schools bear a legal duty to monitor district-owned electronic devices to prevent predators from using them to gain access to kids?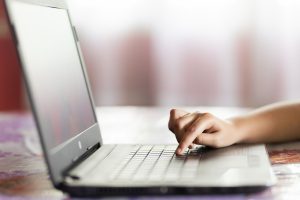 Plaintiffs in a newly-filed Florida sexual abuse lawsuit against a county school board say: Yes.
According to the Miami Herald, a mother is suing a Florida school district because she said her daughter met a predator online while using a school-issued laptop. The 11-year-old was allegedly groomed, kidnapped, and sexually assaulted by the man who first made contact with her through a social media app that she used regularly on her school laptop. The laptops were issued when the school district shifted to remote learning during the pandemic. During this time, there were reportedly on protections to block social media on the devices.
Early into the start of the 2020-2021 school year, the girl was contacted by a 26-year-old man on social media. According to the civil complaint, the man expressed a desire to have a romantic/sexual relationship with her, said he wanted her to move into his home, and he planned to tell everyone that she was a young relative of his. On more than one occasion, he tried to get her to leave home, promised to buy her a new phone, and asked her to provide illicit photographs of herself. Again – all of this was done on her school-issued laptop, on school days, and during school hours.
A few weeks after their initial conduct, the man allegedly went to her home and kidnapped her. An AMBER Alert was issued. Although she was found by the afternoon of the following day, she had been sexually assaulted. The man was charged with multiple felonies.
When the girl had first gone missing, her mother wasn't able to access her school laptop. Police were ultimately able to unlock it, which is how they discovered who she was likely with.
After she was rescued and returned home, the girl's mother asked the school for education options that didn't involve electronic devices. The district refused, telling her the only option was to come pick up her old laptop. She ended up missing her entire sixth grade school year. The district allegedly tried to move her up to 7th then 8th grade without transcripts. However, she won't be able to begin high school until she finishes the sixth grade. She's been attending an alternative school for troubled teens, but the district has said if she moves back into regular brick-and-mortar public schooling, the lawsuit says, she'll have to go back to 6th grade.
According to the lawsuit, the girl's mother wants the district to be held accountable not only for failing to protect her in the first place, but also for failing to provide reasonable education alternatives in the aftermath of the trauma she endured – causing her to fall behind two grades.
Her Florida sexual abuse lawsuit alleges the school board was negligent in issuing children laptops that lacked safety features preventing students from accessing social media websites – something she says the school specifically advertised in the cyber security section of its handbook. Further, she said the school board's lack of response in the aftermath of her daughter's assault put other kids at risk of similar incidents happening again to other kids. She specifically cited the failure of the district to ensure parents could access their kids' school devices. Furthermore, she says the district's failure to train employees resulted in the violation of the girl's constitutional rights – including the right to equal education and freedom from sexual assault.
As Palm Beach sexual abuse lawyers, we can't say what the outcome of this case is going to be, but it's possible the plaintiff will prevail – particularly if she can prove the school failed in instituting the level of cyber security it promised parents it was providing.
Contact the South Florida personal injury attorneys at Halberg & Fogg PLLC by calling toll-free at 1-877-425-2374. Serving West Palm Beach, Miami, Tampa, Orlando and Fort Myers/ Naples. There is no fee unless you win.
Additional Resources:
12-year-old met accused kidnapper online using school laptop, mother says in lawsuit, Feb. 7, 2023, Miami Herald
More Blog Entries:
What the E. Jean Carroll Sex Abuse Lawsuit Tells Us About This Type of Litigation, May 15, 2023, West Palm Beach Florida Sexual Abuse Lawyer Blog