Telehealth has been around since the early 2000s, though it didn't gain widespread acceptance by providers or patients until the COVID-19 pandemic. Now, according to a survey by the American Medical Association, 85 percent of physicians said they are currently using telehealth, and nearly 70 percent report their organization is interested in continuing to offer it permanently. It may prove especially valuable for those managing chronic diseases, care coordination, mental health, and certain specialties.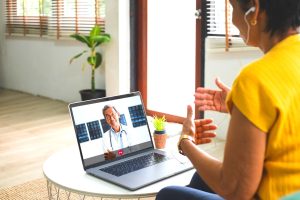 The benefits of telehealth are extensive (greater accessibility for those in rural areas or with mobility limitations, convenience, cost savings, etc.). But it also comes with a potentially higher rate of misdiagnosis – one of the primary catalysts for Florida medical malpractice claims.
Providers can be liable for medical malpractice if they breach the standard of care during a telehealth visit and the patient suffers harm as a result. This could be due to a negligent omission, miscommunication, misdiagnosis, software malfunctions, etc. Misdiagnosis in particular is a top concern because of the inherent challenges that come with examining a patient by way of a digital health platform versus being face-to-face in an exam room. A pre-pandemic analysis by a medical professional liability firm calculated that nearly 70 percent of telehealth medical malpractice claims were related to diagnostic issues – either missed diagnosis or misdiagnosis.
What is Telehealth?
For those who may not be familiar, telehealth is when a doctor or other health care professional provides consultations, exams, diagnoses, and treatment via phone call or video chat. It's usually done on a secure video app and/or through secure messaging systems. Sometimes, patients may be given monitoring devices that collect certain data that aid in providing a remote examination.
Some of the ways telehealth is being increasingly used:
To check on patients after surgery.
To provide certain therapies (speech therapy, occupational therapy, etc.).
To check in with patients suffering from mental health disorders.
At urgent care centers to quickly diagnose conditions like urinary tract infections or migraines.
To manage medications.
Why is Misdiagnosis Such a Concern in Telehealth?
Probably one of the biggest shortcomings of telehealth is that doctors are essentially limited in the information-gathering process before they are asked to issue a diagnosis or prescribe a medication. Not being able to touch their patient, they may miss a red flag they otherwise would catch when they're able to physically poke and prod. Beyond that, patients tend to be a bit more reserved over Zoom than they are in person.
The Journal of the American Medical Association  raised concerns about less-than-ideal methods of verifying patients' identities, issuing accurate diagnoses, and obtaining a complete picture of patients' medical history – all of which can result in a medical malpractice lawsuit if the patient suffers harm as a result. JAMA reported a seemingly lower-than-average rate of medical malpractice claims in telemedicine, but opined that may have to do partly with the fact that most of the conditions treated in a telehealth setting (at least in 2019) were minor ailments like allergies, flu symptoms, respiratory infections, etc.
In our post-pandemic reality, doctors in specialty areas – from behavior specialists to pediatricians to OBGYNs to neurosurgeons – do increasingly offer telehealth services. They are inherently at higher risk for medical malpractice claims, and it stands to reason that would apply whether appointments are done in person or virtually.
Doctors who provide telehealth services will be judged based on the standard of care – which will take into account the inherent limitations of telemedicine. That said, doctors need to be diligent in identifying when more information – and an in-person visit – may be warranted before they can definitively diagnose certain conditions or administer certain medications.
If you have been misdiagnosed or suffered some other harm as a result of substandard care delivered through telehealth in South Florida, our Palm Beach medical malpractice attorneys can help.
Contact the South Florida medical malpractice attorneys at Halberg & Fogg PLLC by calling toll-free at 1-877-425-2374. Serving West Palm Beach, Miami, Tampa, Orlando and Fort Myers/ Naples. There is no fee unless you win.
Additional Resources:
AMA survey shows widespread enthusiasm for telehealth, March 23, 2022, AMA
More Blog Entries:
Florida Supreme Court Asked to Reconsider Medical Mistake Transparency, Nov. 28, 2022, Palm Beach Medical Malpractice Lawyer Blog