Liability for Florida amputation injuries may be imputed to negligent doctor/hospital (medical malpractice), property owner who failed to correct an unsafe condition (premises liability), careless motor vehicle driver (auto accident claim), or product manufacturer/distributor who designed/manufactured/sold a defective product (product liability). There could be other liable parties too, depending on the facts of the case. Given the severity of amputation injuries and the extent to which one can impact the rest of your life, it's imperative to discuss your legal options with an experienced Palm Beach injury lawyer to determine whether you may have grounds for a South Florida injury lawsuit.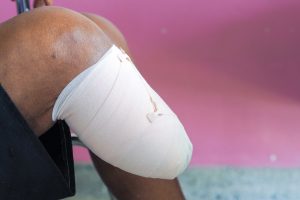 Recently, a doctor and urgent care center were ordered to pay $7.6 million in a medical malpractice lawsuit for Florida amputation injuries suffered by a patient whose bacterial infection was initially misdiagnosed as an ankle sprain. According to the Pensacola News Journal, the case involved a retired firefighter, whose right leg had to be amputated after a medical mistake. Specifically, the patient's leg became infected after he was exposed to contaminated water in the Pensacola Bay. The leg began to ache and turned blue. When the pain worsened, he went to the urgent care center. Blisters began to develop as he waited in the lobby. Despite these symptoms, he was diagnosed with a sprained ankle, given crutches, and instructed to ice and elevate the leg. The following day, the man saw a podiatrist, who immediately recognized what was happening, and correctly diagnosed the patient as battling an aggressive bacterial infection. He was rushed to the hospital and treated with powerful antibiotics. However, by then it was too late, and the leg had to be amputated to save the patient's life. The urgent care facility and employee doctor denied liability. However, following an eight-day civil trial, jurors awarded plaintiff $6.8 million and his wife $787,000.
Florida Amputation Injury Cases are High Stakes
Amputation is when any piece of limb of the body is severed. They can be part of planned surgeries, but they may also be the result of an accident or medical mistake.
Losing fingers or toes, while seemingly minor, can be traumatic, resulting in unique challenges for the tasks of everyday life. When someone suffers the partial or total loss of a limb, the consequences can be profound. Continue reading