As the COVID-19 pandemic sweeps across Florida and the country, many medical providers are racing to determine the best ways to respond. Our health workers are on the front lines of battling the outbreak, and they and their families are facing an increased risk of contracting the virus. Meanwhile, there is concern from patients that they are not able to be diagnosed or in some cases that they are improperly diagnosed. Patients in hospitals for unrelated reasons may also be at higher risk of catching the disease as well, particularly if the proper precautions aren't in place.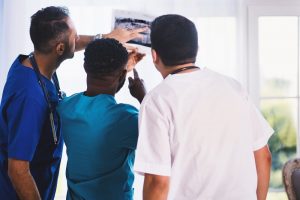 Our South Florida medical malpractice attorneys recognize that this is a dynamic situation. As of this writing, The New York Times reports nearly 50,000 people in the U.S. have been diagnosed with COVID-19, and that figure is expected to increase exponentially, particularly as more tests become available.
Currently, the U.S. Centers for Disease Control and Prevention indicates those over 60 are at highest risk of falling seriously ill or dying. Others at high risk are those with lung disease, heart disease, diabetes and weakened immune systems. Anyone who thinks they might be ill are advised to contact their primary doctor ahead of time, which will allow the physician and/or hospital to prepare and implement measures to reduce the risk of infection to themselves and others.
Those who aren't sick enough to be hospitalized may be advised to recover from home. Emergency treatment may be necessary for those experience shortness of breath, difficulty breathing, pressure or pain in their chest, confusion or bluish face or lips. Those experiencing these symptoms should report to an emergency room.
Doctors, nurses or others who refuse to treat patients who are suspected of having COVID-19, who misdiagnose a person with the virus or who fail to follow infectious disease controls may be held legally accountable.
Although the highly contagious disease caught the country largely by surprise, by this point, hospitals, doctor's offices, nursing homes and other healthcare facilities should be implementing strict infection control procedures to reduce the chances of spreading the virus. Hospital-acquired infection was a serious problem even before the COVID-19 pandemic, with the CDC reporting 1 in every 31 patients on any given day in the U.S. suffers from at least one. Because this strain of coronavirus is so extremely contagious, healthcare facilities may be liable if they don't have strict controls in place or if they fail to ensure their employees are following them.
Recently, research published in the American Journal of Roentgenology looked at the rate of misdiagnosis of radiologists for COVID-19, looking at how effective chest x-ray scans are in helping medical professionals make an accurate diagnosis. That study included 51 patients (men and women ages 26 to 83) with a confirmed diagnosis of COVID-19. Researchers reviewed clinical information, CT images and corresponding image reports and compared those with the laboratory test results. They found that COVID-19 was misdiagnosed as a common infection in two patients with underlying diseases.
The researchers characterized this 4 percent as a "low rate of misdiagnosis." However, if 4 percent of the 50,000 people confirmed to have the disease were misdiagnosed, that's about 2,000 people. If we extrapolate that into the worst-case projected number of cases over the next two months (1.2 million) that's about 48,000 people who would be improperly diagnosed if health care facilities use this method.
Public health officials have said that for every 1 person diagnosed, there are 5 to 10 who are not diagnosed/undetected. If the disease is not diagnosed properly, it could delay important treatment and increase the risk of infection to others.